Sonic & Mega Man: When Worlds Collide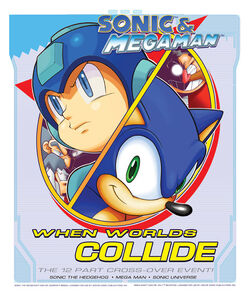 Publication information
Publisher:
Archie
Released:
2013
Creative Team
Writer(s):
Ian Flynn
Sonic & Mega Man: When Worlds Collide is a 12-part crossover storyline between the franchises Mega Man and Sonic the Hedgehog announced on the San Diego Comic-Con International in July 10, 2012. It will be published on Archie Comics' Mega Man, Sonic the Hedgehog and Sonic Universe comic books in 2013.
Ad blocker interference detected!
Wikia is a free-to-use site that makes money from advertising. We have a modified experience for viewers using ad blockers

Wikia is not accessible if you've made further modifications. Remove the custom ad blocker rule(s) and the page will load as expected.